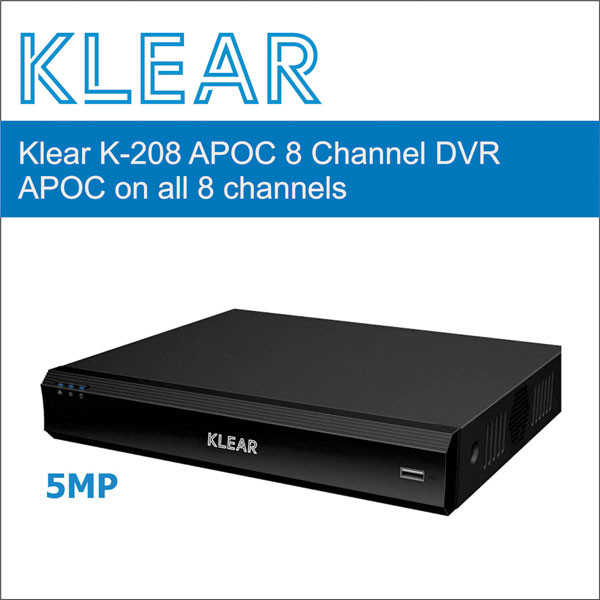  
Klear K-208 APOC DVR
Reference: KCCTV208APOC
Klear K-208 APOC DVR
APOC on all 8 channels
-

Secure Server and Payment Providers

Fast Delivery Options

Buy with Confidence with our Returns policy
Klear K-208 APOC DVR
APOC on all 8 channels
-
Highlights
APOC on all channels: Audio,Video, Power & Date over 1-BNC
H.265+/H.265 dual stream video compression
5in1: CVI,TVI,AHD,CVB-S,IP
Smart Motion Detection
Face Detection
Video Alalytics
4K UHD HDMI Output
1 x SATA up to 10TB
-
Overview
This high performance APOC DVR supports up to 5MP APOC as well as up to 8MP CVI recording resolutions and an additional two 8MP IP Cameras.
-
APOC
Klear's proprietary APOC technology delivers Audio, Video, Power & Data all over one coaxial or CAT 5/6 Cable on all channels.
APOC allows long distance transmission of 5MP 2.5K up to 300m via coaxial cable or up to 150m via CAT5/6 cable using K-100 POC Baluns. If using CAT5/6 you only need to use 1-pair and the other 3-pairs can be used for 3 additional APOC cameras.